Mayor Karen Freeman-Wilson
City of Gary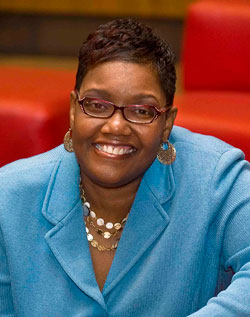 As Mayor of the great City of Gary, I am pleased to welcome you to one of our most celebrated jewels – Marquette Park Pavilion. For decades, both Gary residents and visitors have utilized this facility for all types of events… making memories to reflect on for years to come. More than 20 years ago, my husband and I held our wedding reception here, so I too have personal memories of Marquette that will stay with me forever.
Recently, the pavilion underwent extensive renovations, which makes me even more excited about the ambience, unique experience and unforgettable scenery offered for every occasion. Our staff is friendly, courteous and ready to help make your vision become a reality. Just give them a call to set up an appointment.
On behalf of the citizens of Gary, we welcome you to Marquette Park Pavilion and invite you to come back time and time again!
Sincerely,
Karen Freeman-Wilson
Mayor, City of Gary
Nathaniel George
Superintendent, City of Gary Department of Public Parks
It is my pleasure and privilege to welcome you to the newly renovated, historic Marquette Park. We are proud of all that Marquette Park and the Marquette Park Pavilion have to offer, and I'm happy you are taking the time to learn more about us by visiting our website.

Thanks to the $28 million investment provided by the Northwest Indiana Regional Development Authority that served to improve our park facilities and natural areas, Marquette Park and the Marquette Park Pavilion are now, more than ever, uniquely positioned to serve as a regional destination, and provide economic stimulus to the City of Gary. When we say "you can DO IT in the Park," we mean that Marquette Park has something for everyone. Whether you're hosting a special event at the Marquette Park Pavilion or the Aquatorium, fishing in the recently dredged lagoon, launching your jet ski at our improved boat launch, hiking the Indiana Dunes (the most active sand dunes in the world), watching your children play on the brand new, totally accessible playground and children's park, riding your bike, or walking your dog at the Doggy Beach – you'll find there isn't much you can't do at Marquette Park!

As Superintendent of the City of Gary Department of Public Parks, I invite you to visit Marquette Park and the Marquette Park Pavilion. Come see the new facilities, experience the park's natural beauty, and believe in Gary's future!

Expectantly,
Nathaniel George
Superintendent
City of Gary, Department of Public Parks